---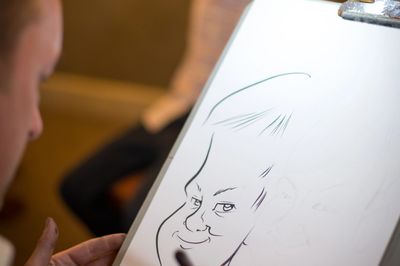 Live events - terms and conditions
Tony will need you to have obtained permission from your venue owners/managers to have him along to entertain for you. If they need to contact him, Tony is more than happy to answer any questions they may have. Tony holds full Public Liability Insurance (documents can be emailed to venue owners on request).
Please ensure that Tony can arrive without clashing with any specific ceremonies on your day. Tony will arrive at least a half an hour earlier than the time you've booked him for, to set up.
Tony will need a space of approximately 6 to 8ft wide x 5ft depth for his equipment (easel, art box/trolley, lighting stand) at your venue. He'll also need to borrow 3 chairs. Please ensure that this will be arranged. An electrical point won't be required as caricaturist's lighting is battery-powered.
If the hire period does not start at the agreed time, as setup has been delayed due to any unforeseen circumstances that are no fault of caricaturist Tony Marriott, then the hire will still end as per the agreed time on booking form.
If Tony has set up in time for the agreed entertainment period, but the hire does not start at the agreed time due to over running of previous activities by you or venue, the hire period will still end as per the agreed time on booking form.
In the exceptionally rare instant that caricaturist Tony Marriott, is not ready to start at the agreed booking time due to my fault, then he will still provide you with the full entertainment period by extending the finishing time of the hire.
Caricaturist Tony Marriott cannot be held responsible for circumstances out of his control that may prevent him from attending your event e.g. disrupting weather conditions, traffic jams or unforeseen breakdown of his vehicle.
In the case that he cannot attend or fulfil your hire due to events beyond his control, Tony will contact you as soon as possible to the phone number you provide on the booking form. In these instances, caricaturist Tony Marriott's liability will be limited to refunding all of monies paid.
A deposit of £50 is required to confirm your booking, with the remaining balance paid 7 days prior to your event.
At the end of the hire period, If the customer requires caricaturist Tony Marriott to extend his entertainment period to draw more guests, then a payment of £100 per hour is required (subject to caricaturist Tony Marriott not having another event to attend afterwards). This further charge must be paid on the day with cash.
If Tony cannot stay longer at your event, he can offer to draw them back in his studio from photos, in the same 'on-the-spot style'. Price for each person drawn is £10 with a one-off payment of £10 p&p (delivered to your address for your distribution).
Any request for a date change must be made in writing and subject to availability. If the new venue is further way than the original booked, then an extra charge to cover the millage may be added.
Caricaturist Tony Marriott will not tolerate any abuse or threatening behaviour. If a threat or abuse of any kind is directed to Tony by a subject who is being drawn or about to be drawn, then the subject will be asked to remove him/herself form the chair or queue to allow the next subject to be drawn. If threats or abuse continue, then caricaturist Tony Marriott reserves the right to finish his entertainment service immediately and vacate the venue earlier then agreed finish time. If this happens, no refund will be given to the customer who hired Tony for the event.
Please contact Tony Marriott if you are unclear of any of the above, before you go ahead with a booking.